This weekend I caught up on some overdue yardwork. The falling snow prompted a flurry of activity, starting with shoveling. With the walkway shoveled, I headed into the backyard. I swept snow off the lawn furniture, put it in the garage and bagged up some old leaves. Then I dusted the new snow off the swinging bench.
Once the swing was cleaned I pulled out the tarp to cover it. Rain falls on the swing all summer, but I suppose the tarp protects it from snow and ice in the colder months. Unfolding the tarp took several minutes. Draping it over took some fiddling due to the large size. Once in place, I used a couple of bungee cords to seal it up on the ends.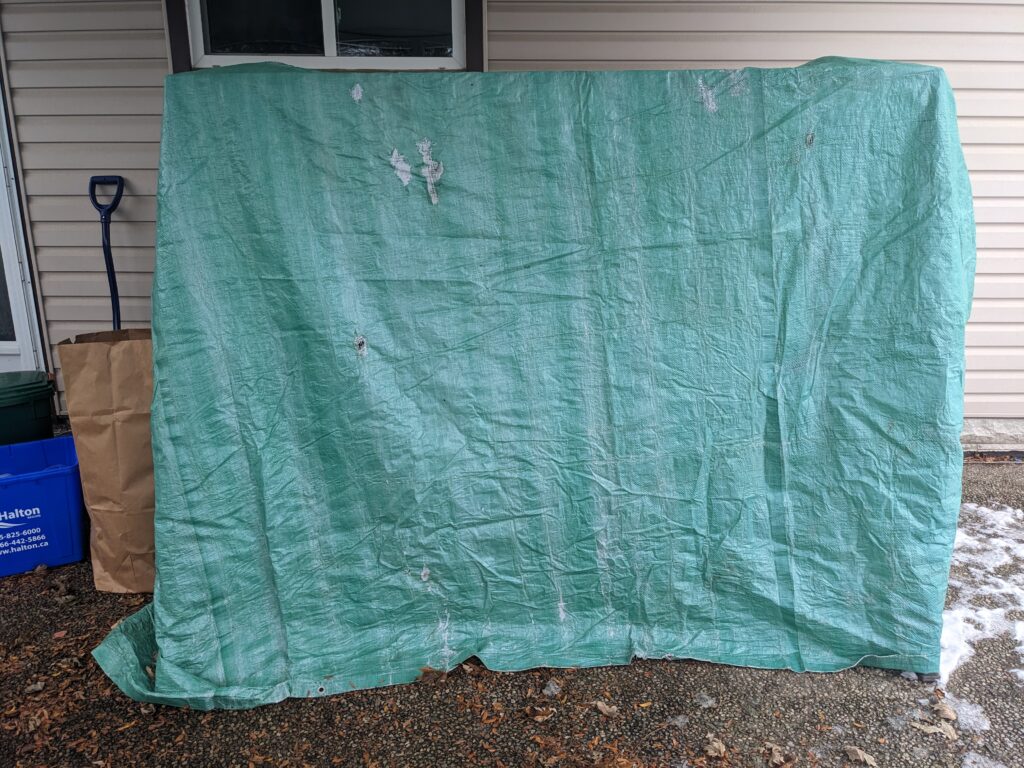 After, I crawled under the tarp to sit on, the now protected and covered, swinging bench. I didn't think I would enjoy it, but it was actually quite nice under there. Even without seeing anything, I could still feel the silent, hushed peace that arrives with the snow. As though everything is being blanketed in a soft, layer of fluff.
I have a hard time waking up in the dark mornings, especially since the sun rises almost an hour after my alarm. I sometimes find it challenging in the winter months to slow down my pace to match rhythm of the season. My bedtime is still hours after the sun sets with an early wake up. However, taking a few moments to sit in the solitude and stillness of the swing felt restorative.
My breathing slowed. The tarp provided protection from the elements, but also added a slight bit of warmth. Although bundled up in my substantial winter gear, it felt calm and cozy nestled under the protective green tarp. I know snow is cold and wet, but it can also be a great insulator and protector. When I grumble about shoveling, marveling at how something so light and fluffy can feel so heavy on the shovel, I often forget about some of the nice parts of snow.
It's beautiful to watch as it falls. The world looks fresh and clean with garbage and other unsightly structures blanketed in a soft, downy coating. Highlights for me include the quiet, hushed feeling after a fresh snowfall and the pinkish hue of the sky at night.